Posted on
By Tipsee Spirits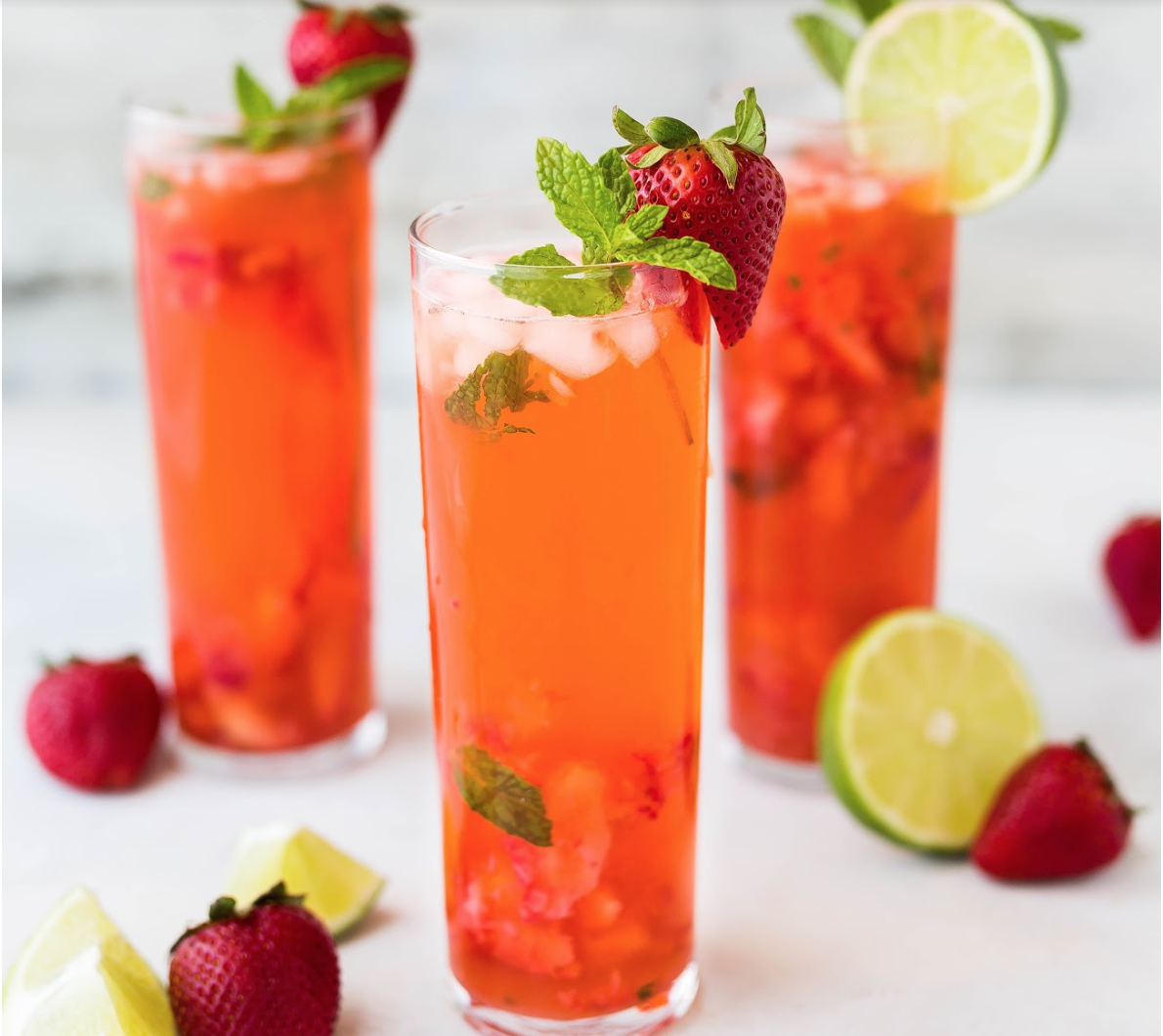 Here are a couple of Tipsee's tried and true top summer cocktails to sip from Memorial Day to Labor Day, and every day in between. Summer in south Florida can be brutal, so we hope these will keep you cool!
Strawberry Basil Spritzer
This is a nice 'down home' kind of drink that feels like you've gone back to childhood. In a stemless wine glass, muddle basil and a dash of brown sugar, then top with ice. Drizzle strawberry syrup and vodka over ice. Fill the glass the rest of the way with sparkling water, or for an extra fun buzz, top it with sparkling rosé. Add a sprig of basil to the top and serve. This is great for an evening stroll through Tropical Park or Matheson County Preserve. Tipsee will even meet you with the fixings for this great cocktail at a your favorite Miami park.
Red White and Booze
This is a fun drink for the Fourth of July, of course, and for all summer long! It's patriotic and packs a mean punch. We suggest to sip this drink poolside on Star Island or on a yacht in Biscayne Bay, or just your own backyard. Grab a highball glass and pour a base layer of grenadine. Next, shake half of a cup of white lemonade together with a shot of vodka and ice. This will form the next layer, but it must be poured carefully to keep the stripe design. Try pouring the liquid over the back of a spoon. Slowly add ice, and then blue curaçao for the final layer. The trick is to pour the blue curaçao  from measuring cup with a spout, and pour slowly! This colorful summer cocktail will have you feeling like a Miami celebrity in no time. And hey, don't have blue curaçao on hand? Place an order through Tipsee's online free delivery service. We'll bring it right to your pool so you can keep floating on a giant pink flamingo.
Summer Sangria
At Tipsee, we love sangria because anything goes! Sangria can be dark or light, fruity or spicey, dry or sweet. This is a light, fruity summer variation that is perfect for a humid day in Fort Lauderdale, so basically, every day! We think this sangria is extra special because it uses moscato, so it has a refreshing effervescent quality. In a pitcher, pour a bottle of a moscato (Yup! The whole thing!) and a half cup of brandy. Add two cups each of cubed watermelon and pineapple and a few lemon wedges. Put the pitcher in the refrigerator and let it chill overnight. If you want to get fancy, mix the extra fruit scraps and juices with water and freeze in ice trays overnight, too. Serve your drink in stemless wine glasses. Pour the sangria over your fruity ice. For more effervescence add lemon lime soda or sparkling water to taste.
Island Iced Tea
Here's a fun variation on the classic that calls for ginger beer or lemon lime soda, instead of dark cola, to lighten up the drink. We recommend sipping this cocktail at a charming hotel pool on South Beach. Place an order on TipseeSpirits.com and we'll bring everything you need to make your own Island Iced Tea right to your hotel room within the hour. Pour one shot each of vodka, gin, white rum, tequila, and triple sec into a shaker with ice and lemon juice. Shake it all around, then pour the mixture into a chilled highball glass, and top off with ginger beer or lemon lime soda. Sip from a straw on your pool float for bonus points.
Lemonade Lush
This is a great combination of light, refreshing and boozy, excellent for south Florida summers. Slowly stir together one cup of lemonade and two cups of champagne or sparkling wine. Add a shot of cranberry juice cocktail for color, and a splash of grenadine for fun. This drink is nice to have with Sunday brunch or for an afternoon barbeque. Order your bottles from TipseeSpirits.com and we'll bring them straight to wherever the party is happening.
Clara con limón
While we're on the lemon theme, this is a super simple thirst quenching 'cocktail' drink to enjoy at a picnic on Hollywood beach. You may want to write down this extensive complicated recipe: mix one part light beer with one part lemon soda. That's it. You better believe we will gladly deliver your favorite light beers and lemon soda so you can try this fantastic refreshing elixir. We know it sounds counterintuitive to mix soda with beer, but hey, trust us, we're Miami and Fort Lauderdale's resident liquor experts. 'Clara' means light, so 'clara con limón' refers to 'light beer with lemon.' You can amp up this underrated beverage with a chilled mug and a slice of lemon. Bonus points if you choose a Miami local brew!


Mango Margarita
You can't have south Florida summer without something mango flavored! We've used it here with tequila to make a margarita with a fresh mango, perhaps right from your neighbors tree! Add the fruit from one whole peeled mango, three shots of tequila, one shot of fresh squeezed lime juice, one shot of agave nectar or simple syrup and  a cup of ice to a blender. Puree ingredients until even and smooth. Pour the mango margarita mixture into a tall glass, add a splash of grapefruit soda and stir. Serve with an added summer zing by pouring a floater of orange liquor on top- we like Grand Marnier. And yes, we will deliver Grand Marnier, tequila, mixers, and pretty much everything else you'll need to make this fun Miami cocktail straight to your door.