Posted on
By Tipsee Spirits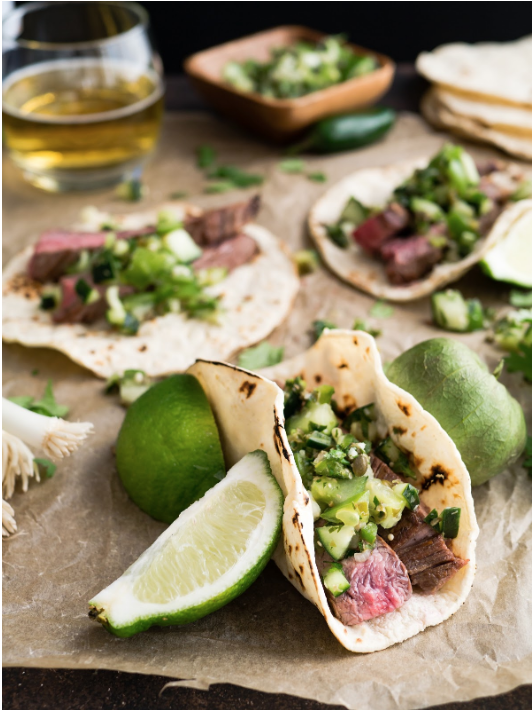 Okay South Florida, if you love booze as much as we do, and we'll assume you do since you're reading this post, what more could you ask for then a food + booze combination?
We've searched near and far to assemble a list of the best booze infused foods. Whether you've got a taste for something sweet, or a big appetite, we hope you're inspired to experiment in the kitchen (and bar!) and give our alcohol infused refreshments a try. Plus, we always recommend cooking with wine, you can even add it to the food!
Bourbon Doused Donuts
Homemade donuts are a pretty lofty endeavor, so we've found a simple recipe so this recipe can be made on a lazy morning at home with a mimosa in hand. The secret is to use premade biscuit dough from a can. (See we've got the best kitchen tips, even for real food!)  Place the biscuits on a board and use a shot glass (wink wink) to cut out a whole in the center of each. Fry the 'donuts' in peanut oil until they are bourbon color on both sides. Place the donuts on a paper towel to cool and drain oil. Meanwhile, in a bowl whisk together 1 shot of bourbon (we recommend Maker's Mark, or for an interesting twist, try Grand Marineir,) 1 cup of confectioners sugar, and 1 tablespoon of milk to form glaze. When the donuts are cool, dip them in your bourbon glaze, and garnish with chopped nuts, or candied bacon. Bonus points for serving donuts with a shot glass full of bourbon in the donut hole! If all else fails, take a trip to our favorite local donut shop, The Salty Donut for an excellent array of donuty goodness. They're known to booze infuse their goodies on occasion, and we'll happily deliver your favorite cocktails or mimosa fixings right to their door. 
American Whiskey Soaked Ribs
This is a fun recipe for a summer barbeque or a hearty meal, it's as American as they come, but needs some advanced preparation. In a bag, mix 3 to 4 shots of American whiskey (try Jack Daniels,) a can of Coca-Cola (we can deliver these both right to your barbeque!) one tablespoon of olive and soy sauce, each. Add a squirt of lime juice and salt and pepper to taste, and stir. When it's well blended, pour yourself a drink, then put your rack of ribs in the bag. Ideally, let the meat marinate overnight. Be sure to pour yourself another drink, then throw your ribs on the grill. Enjoy with a cold beer and good friends. Let us know if you need anything there to keep your party going, we'll have it there within the hour.  
Bloody Mary Grilled Cheese
Hands down, our biggest comfort food offering, this delectable match made in heaven is sure to please Mother Mary herself. We recommend this dish for a fun appetizer. Butter both sides of day old sourdough bread, load with your three favorite melty cheeses, and close into a sandwich. Cook the sandwich on medium heat in a fry pan until both sides are golden brown and cheese is melting over the sides. While the grilled cheese is grilling, shake together your favorite bloody mary mix over ice with a shot or two (or three) of vodka (try Ciroc.) Pour the bloody mary into a tall glass and serve with olives, celery, and a lemon wedge (this one is for you to drink, lol!)  Pour the rest of the bloody mary into shot glasses. When the sandwich is done cooking, slice it into small triangles and stick them individually into the shot glasses, with the crust side hanging in the rim. We love this new take on a comfort classic and the fun presentation. Want to premake a big batch for an upcoming party? Make a bunch of sandwiches in advance and grill them just before the party starts. Plus, stock up on Ciroc and all of your favorite liquors with one convenient easy pre-party alcohol delivery from your friends at Tipsee Spirits.
Adult Chocolate Stout Ice Cream Float
Okay, we're super serious when we say this is our favorite recipe ever! Not only is it booze infused food, it only calls for 2 ingredients! If you want to eat AND drink your way to happiness, you'll have to give this a try. This boozy treat calls for a pint of stout, we suggest Guinness, but any will do. Bonus points for chocolate flavored! Scoop chocolate ice cream into a frozen glass and slowly pour stout overtop. Enjoy with a long spoon and a swirly straw. If you're in the mood for our 'adult-float' visit TipseeSpirits.com and place a delivery order for a cold pack of stouts! We'll have it to your door before you can say 'Adult Chocolate Stout Ice Cream Float!'
Tequila Tacos
Let's face it. Miami is the taco capital of the world. Sure, the revered dish might originate in a country south of the border, but everyone from everywhere who loves tacos has mysteriously popped-up shop in our city, and we are not complaining. So, of course we are excited about this next food booze fusion: Tequila Tacos. In a slow cooker, (yes we love making things easier!) combine skirt steak (or your meat of choice) 4-5 shots of tequila (we suggest José Cuervo Silver,) 1 shot of lime juice, 2 teaspoons of liquid smoke,  2 cloves of garlic, chopped chipotle peppers, a tablespoon of chili powder, a few pinches of cumin, oregano, ancho chili powder and paprika. Cover and cook on low for 8 hours, then on high for 4 hours. Remove the steak and slice. Warm tortillas in the oven, and chop up assorted toppings. Serve your tequila tacos with rice and beans, guacamole, salsa, and of course a shot of tequila or frozen margaritas. Fresh out? www.TipseeSpirits.com can solve that issue under an hour. We'll deliver tequila, and even some limes.
At Tipsee, not only do we love alcohol, we also love food. We hope you'll try these food booze fusions, and please drink AND eat responsibly. Share some of your own favorite recipes in the comments below for a chance to be featured in future posts.